Students and staff react to SUNY Oswego smoking ban
SUNY Oswego President Deborah F. Stanley announced on Earth Day via the Oswego website and a Campus Wide email that SUNY Oswego has set the date to become a smoke-free campus by January 2015.
"SUNY Oswego will make the healthy choice and go tobacco free on January 1, 2015, everywhere on campus. This will include tobacco use in any vehicle on college premises," said Stanley in the email.
SUNY Oswego prioritizes a healthy learning environment and clean air for their students, said the email. Nevertheless, the college understands that it is a big adjustment for smokers and it is going to be a process.
"In our efforts to support the educational mission of the college and to provide a safe, clean and healthy working, living and learning environment, the college will provide cessation assistance and resources to members of the campus community who wish to stop smoking or using tobacco in any form," said Stanley.
Student and Staff Reaction   
Many SUNY Oswego students and employees agreed that it is a good policy but it is too extreme for smokers. Although the policy would improve the health of those on campus, due to the reduction of secondhand smoke, it seems like SUNY Oswego is making the decision for students and staff.
[su_youtube_advanced url="https://www.youtube.com/watch?v=q53i9lsfxzk" autoplay="no" rel="no" fs="no" modestbranding="yes" theme="light"]
"Making it a smoke-free campus affects the lives that people choose to lead and if a person chose to be a smoker then he or she should be able to do so," said Mariya Boyko, a senior at SUNY Oswego.
"I think that it's a good idea but the fact that students and staff won't be able to smoke in their vehicle is totally unfair," said Jo Ann Richardson, an Administrative Assistant at SUNY Oswego's International Student and Scholar Services
"I think it will be better for everyone's health. Most people won't be exposed to the secondhand smoking," said Cathy Lam, a junior majoring in Wellness Management.
According to the information on SUNY Oswego Clean Air Committee website, SUNY Oswego conducted a survey of 1,526 students in April 2013. Only 235 respondents currently use tobacco products and over 50% of the 235 respondents were either already planning on or were willing to quit.
Policy Objective & Enforcement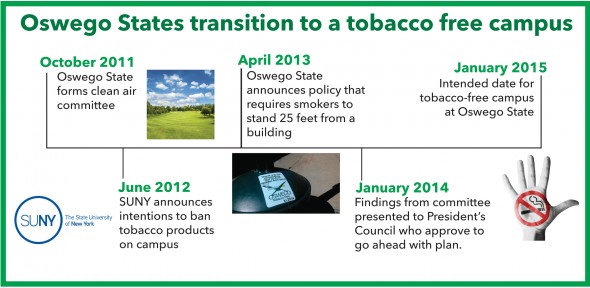 The ban of tobacco use on campus was announced on June 2012 by the SUNY Chancellor's task force. The Chancellor set this goal across 64 SUNY campuses but the full ban effect cannot be enforced until the state legislation passes the bill. The SUNY Chancellor realizes that the bill would take time to pass and it encourages universities to start their own policy.
Many universities such as Buffalo State, SUNY Cortland, and SUNY Upstate have implemented their own policies. SUNY Oswego declared its intention to ban smoking on campus several times throughout 2013 and since then, the college has enforced the 25-foot smoking distance policy from any building.
Dr. Jerald Jones Woolfolk, Oswego's Vice President for Student Affairs and Enrollment Management, is part of the Clean Air Committee.
"We are not asking individuals to quit smoking or using tobacco products. We are simply saying that they can not use those products on our campus. However if there are those interested in quitting, we can provide them with information to help them stop," said Woolfolk.
The policy is self-regulated for staff and students because the goal is to make smokers feel uncomfortable and stop smoking.
"As for students, smoking or using tobacco on campus will be a violation of the student code of conduct and will result in disciplinary action which will include educational programming and counseling," said Woolfolk.
Students who are seeking to quit smoking can participate in smoking cessation programs at the the Life Styles Center and employees can use their health insurance to purchase a prescription for cessation products by going to their physicians.