Oswego Defeats Bowdoin, Will Face Babson Next
[su_youtube url="https://www.youtube.com/watch?v=X9doEGPBzj0″ width="380″ height="300″]
The Oswego State men's ice hockey team advanced to the 2014 NCAA Men's Ice Hockey Quarterfinals with a 4-3 victory over Bowdoin College Thursday at the Campus Center Ice Arena.
The Lakers found themselves in a tight spot during the third period, and the team's veteran leadership stepped up in a big way. Captain David Titanic had an amazing third period in which he recorded a goal and an assist, and his line was money during the most important moments of the game.
After the Bowdoin Polar Bears scored two quick goals in the third period to make it 3-1, Lakers head coach Ed Gosek called a timeout.
The timeout proved to be a turning point in the game, as Titanic and his linemate Mike Montagna traded goals 38 seconds apart. From that point onward, it was a game dominated by the Lakers, and Alex Botten once again played the role of hero when he scored the game-winning goal with 2:20 remaining in the third period of a backhand feed from Titanic.
This was Botten's second tally of the game, having registered a goal during the first period after being setup by freshman sniper Matt Galati, and junior rearguard Nick Rivait. The Lakers held on for the final 140 seconds of the period, and it was another playoff game in which the Lakers were victorious by a one-goal margin.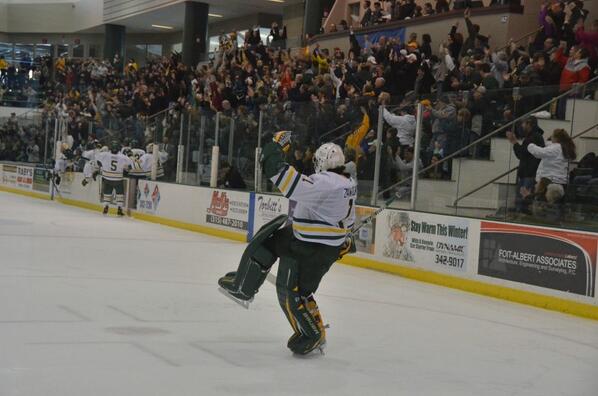 Freshman netminder Matt Zawadzki had another exceptional start in goal for the Lakers, and he finished the game with 27 saves. With the win, Zawadzki improved his record to 14-2-2, and he has continued to be one of Oswego's top freshman standouts.
The team will travel to Babson Park, MA for a showdown against the 22-4-2 Babson College Beavers on Sunday at 3:00 p.m.
Babson's leading scorer this season was junior Mike Driscoll, and he finished the season with 25 points in 28 games.
The Beavers also have one of the best goaltenders in D3 hockey, and his name is sophomore Jamie Murray. Murray finished the season with an impeccable 21-4-2 record, and a 1.44 goals against average and a .950 save percentage.
No matter how slice it, the Lakers are in for a true test on Sunday, and a victory would send the school to its fifth consecutive NCAA Frozen Four.